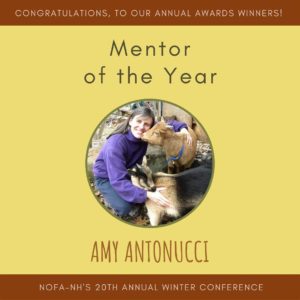 I was touched to receive the 2022 Mentor of the Year Award from The Northeast Organic Farming Association of NH at the winter conference in February.
In 2017 I was given the Leading Organic Gardener of the Year award, also a huge surprise and honor. I work very hard in my garden, physically and as a constant learner. The inches of healthy soil I've helped to grow are part of the legacy I will leave behind when I die. Growing our food here in a sustainable way is also an aspect of how I live in the world in a responsible and giving way: problems such as chemical contamination, food miles, and soil loss are avoided in what I grow here.
So, I will always be proud of being named Leading Organic Gardener of the Year. I think, though, that I am even more pleased by being recognized as a mentor.
It wasn't long into my time working on a farm that I realized how much I wanted to empower others to grow, too. I loved the work and knowing that what I did was good and useful to my community. However, I was even more excited to hear from people about their attempts to do it for themselves.
I came to farming after getting a degree in Women's Studies at UNH-Durham where I learned to see a larger picture of the world and how things are connected and influence each other. I became an activist for women's rights, peace and environmental health where I further saw the power of working together collectively.
I was thus less interested in growing for people than growing with them, and building a movement of human beings who see that they depend on the land around them for nourishment and life.
As I write this, one of my favorite songs by Sweet Honey in the Rock is "Ella's Song" comes to mind.  It includes this stanza:
"That which touches me most is that I had a chance to work with people,
Passing on to others that which was passed on to me."
So much of my learning about permaculture and food growing happened at NOFA conferences and classes. I am happy to continue to pass that on and moved that my work has been seen.