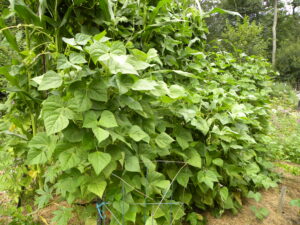 Back in May I wrote about the importance of knowing how to use the diverse foods we grow. Even though this has been a low production year for a lot of crops, a few finally kicked in and started to overwhelm us – beans in particular. Focusing on snap beans in this post, this year we grew rattlesnake, blue lake pole and concador yellow bush beans (the concadors were not a big success). Because snap beans have a short shelf life, they either need to be cooked or put up for the winter within a few days of picking. Here's how I use them that I enjoy and that can extend the season.
First, we eat them! My favorite recipe for fresh picked beans we call Cheesy Beans. Here it is:
1 pound snap beans, ends removed and cut to the size you like
1 onion, diced
6 garlic cloves, diced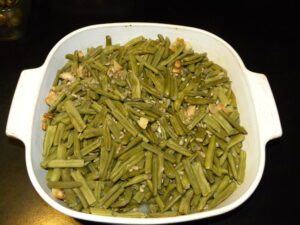 1/8 cup sunflower seeds
1 cup grated cheese (I like Monterey jack)
a little fat – oil or lard
salt to taste
Take a covered baking dish, put in the onion, garlic and fat, then the beans, and sprinkle the seeds and salt on top. I bake that at 350F for 45 minutes or until the beans are tender. When I remove it from the oven I top it with the grated cheese.
I love this dish, but only like it with fresh rather than frozen beans. So, it is a regular on our table during bean harvest, then disappears from the menu until next year.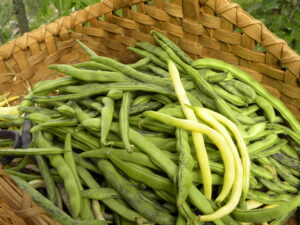 Since I have such great luck with growing beans, we always end up with more than we can eat at the time. For awhile that was a problem, because I couldn't find a way to use frozen beans that I liked. You can put them in winter soups and stews, but I don't love them that way. Then, a few years ago I rediscovered Three Bean Salad. My mother made a bean salad when I was a kid, using canned beans. For some reason the dish came back to my mind and I adapted it for home-grown instead of canned beans. Here's how I do it:
2 cups snap beans, frozen (or start with fresh snap beans, cook them, and use them without freezing them)
2 cups garbanzo beans, cooked
2 cups dry beans (kidney is traditional, I use Good Mother Stallards since I grow them), cooked
¼ cup red onion, diced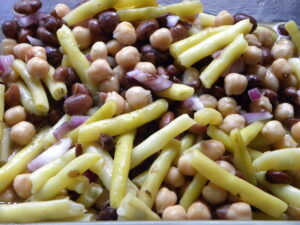 1/3 cup apple cider vinegar
½ cup olive oil
1 tblsp honey
1 tsp salt
Toss it all together and let it marinate for a day before eating.
When I freeze beans I do blanch them first (steam them for a short amount of time). Others tell me they do it without, but I find the beans can get mushy if I don't blanch.
Three Bean Salad also uses dry beans, which I grow even more of than snap. Dried beans are harvested in the fall and have a really long shelf life, so there is no rush to get them picked and processed which I appreciate. I use especially use them in the winter, so maybe I'll write more about them then.
Do any of you have beans recipes to share?